<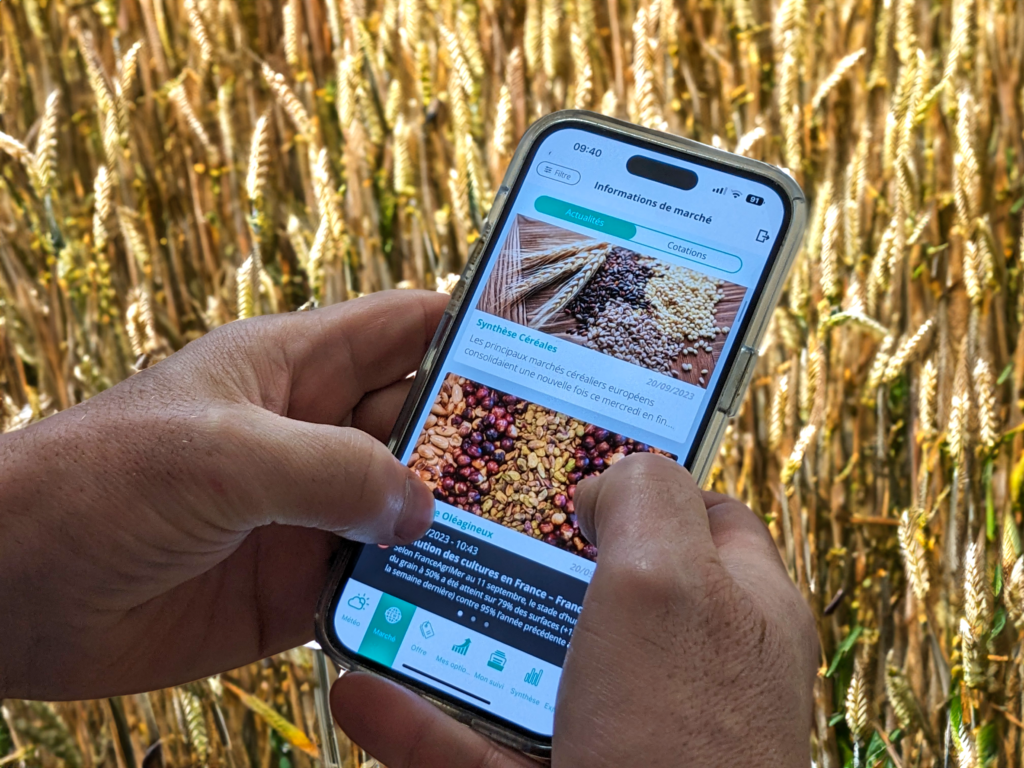 Agrimarket
A WEB AND MOBILE SOLUTION TO DIGITALIZE YOUR RELATIONSHIP WITH YOUR FARMERS
You are
and want to improve your profits in an increasingly competitive environment ?
A few tips from our Grainbow experts
Increase your market share
Whether it's conventional products like wheat, corn, rapeseed or organic products, the importance of volume is crucial. By increasing your volume, you can spread out your fixed costs and thus increase your margins and profits. Making your crop process more efficient with IT solutions such as a mobile E-crop application is therefore essential.
Adopt an attractive sales policy
It's one thing to have the operational capacity to buy large volumes, but you also need to attract farmers and encourage them to sell you grain. Farmers are increasingly well-informed, following commodity markets such as MATIF, and keen to benefit from price rises in increasingly volatile markets. Farmers are no longer spectators, they are actors. These days, the farmgate price is gaining ground over the campaign price. More and more cooperatives are offering Euronext-indexed firm prices via a web interface or mobile application. In an increasingly competitive environment, your sales policy needs to be diverse: farmgate prices, target prices, commitment offers, differentiated base purchases, option offers (CALL/PUT) ….
Integrate transport costs
It's also important to have a sales policy that adapts to the economic context, and to transport costs. Cooperatives classify their farmers by group, and many do so geographically, to assign transport parities. In this way, they can vary their purchase offers according to certain characteristics (farm storage/silo delivery, for example). Fuel prices are becoming ever more volatile, and this notion of transport needs to be considered in your sales policy.
Keep in mind that markets are volatile, but so are farmers
It's important to offer them a quality service that stands out from the competition. Today, it's possible to offer your farmers a white-label mobile application. An application in your name, downloadable from Apple Store and Play Store. Where the farmer can contract, but also benefit from a range of services. From a commercial point of view, it's worth proposing quality content on an application aimed at farmers, to encourage them to use it regularly. Many cooperatives offer market information to their farmers, including EURONEXT 15-minute delayed, a weather service, and Decision Support Tools (DST). Beyond the commercial aspect, offering an additional service helps to cultivate solid relationships with farmers.
Once market share has been acquired, maintaining margins is essential. Following the purchase of grains and oilseeds, most players in the agricultural sector (cooperatives, traders, manufacturers, millers, etc.) hedge on the stock markets (Matif or CBOT). Hedging is carried out via a futures broker and enables you to secure your price and margin. Hedging can be done manually (by calling your broker) or automatically with what's known as order routing (automatic order placement via a DMA).
Don't forget the hidden costs
First and foremost, the administrative side of the business. Documents such as grain contracts, delivery notes, invoices, and contribution statements. Having a document portal with an electronic signature system and a trusted third party saves an enormous amount of time. It's also important to have an interfaced IT system, as contracting on an application to be re-entered into an ERP represents a considerable waste of time. There's also the legal aspect, with many cooperatives and trading companies chasing signatures every year. In an increasingly volatile market, farmers may be tempted not to honor their contracts…
In parallel to these various actions, it is necessary to
At Grainbow, we've developed Agrimarket, which enables you to digitize your collection and offer your farmers a document portal.
Agrimarket is a customizable, interactive and innovative solution that integrates easily into your existing IT environment (WEBAPI).
With Agrimarket, you can have your own mobile application and extranet

White-label, customizable according to your corporate identity

Scalable

User-friendly
«The Maïsadour Group's cereals business has been using GRAINBOW tools for 15 years. We started with Wpriop to secure the management of our commercial positions, then WSD to monitor MATIF in real-time. We have also been using Agrimarket and Agstore for 4 years to support the development of our multi-channel strategy for our farmers. Today, our entire commercial offer is accessible via Agrimarket, and 40% of our farmers have become autonomous in the contractualization of their crop»
Chantal DUQUES – Sales Manager – MAISADOUR 
Maïsadour cooperative located in the south of France / 5 000 farmers / 600 000 tons per crop.
Preview of the mobile application interface on a demo environment.
Adopting Agrimarket
It's choosing a solution :
Multilingual

Multi-companies




Multi-support

Multi-currency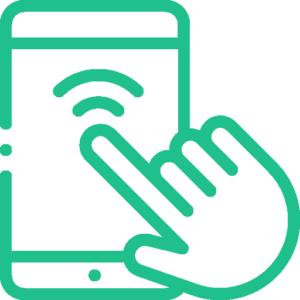 Mobile application
• E-Crop: Real-time firm price offers, target prices, basis contract, commitment and option offers (CALL/PUT).• Market information: Euronext 15-minute delayed, daily market summaries, news, and technical points.
• Personalized weather service.
• Contract monitoring / Decision Support Tool (DST).

Interface between farmers and sales representatives

Web version
• E-Crop: Real-time firm price offers, target prices, basis contract, commitment offers, and option offers (CALL/PUT).
• Market information: Euronext 15-minute delayed, daily market summaries, news, and technical points.
• Follow-up of your contractualization.
• Document consultation: Invoices, supply statements, delivery notes, etc.
• Take orders for supply products.

Interface between farmers / technical sales staff / OS administrators.
Focus on the general functionalities of the mobile application for farmers
CONTRACTUALIZATION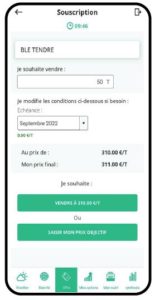 With or without prior commitment, each farmer can access your offers and contract directly with you online. The farmer can be alerted by notification or SMS when a new offer is online or when his target price is reached. Each contract can be validated by an electronic signature system.
FOLLOW UP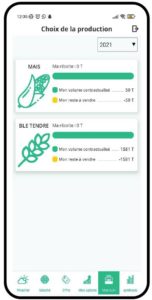 Farmers can monitor their sales by species : quantities committed, prices fixed, prices yet to be fixed, and target prices in progress.
He also has access to graphs and summaries with his average price and his rate of crop progress in relation to his territory (defined by you).

MARKET INFO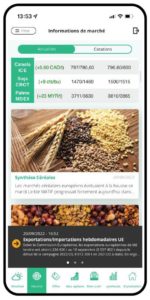 The farmer has access to all the market information produced by GRAINBOW's market analysis department: Euronext 15-minute delayed, news, daily market reports, technical points, global macro quotes (Forex/gasoil) and physical quotes.
OPTIONS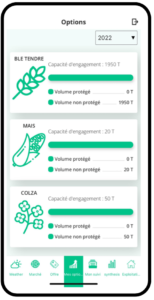 Farmers can subscribe to options proposed by you (CALL/PUT) to be hedged against market fluctuations.
WEATHER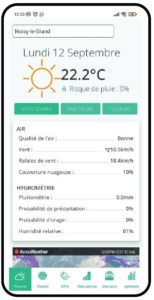 Display temperatures, weather, and risk of rain over several days. The application geolocates the farmer's phone to personalize the information according to his geographical location.

General benefits and functionalities for the cooperatives (administrator interface)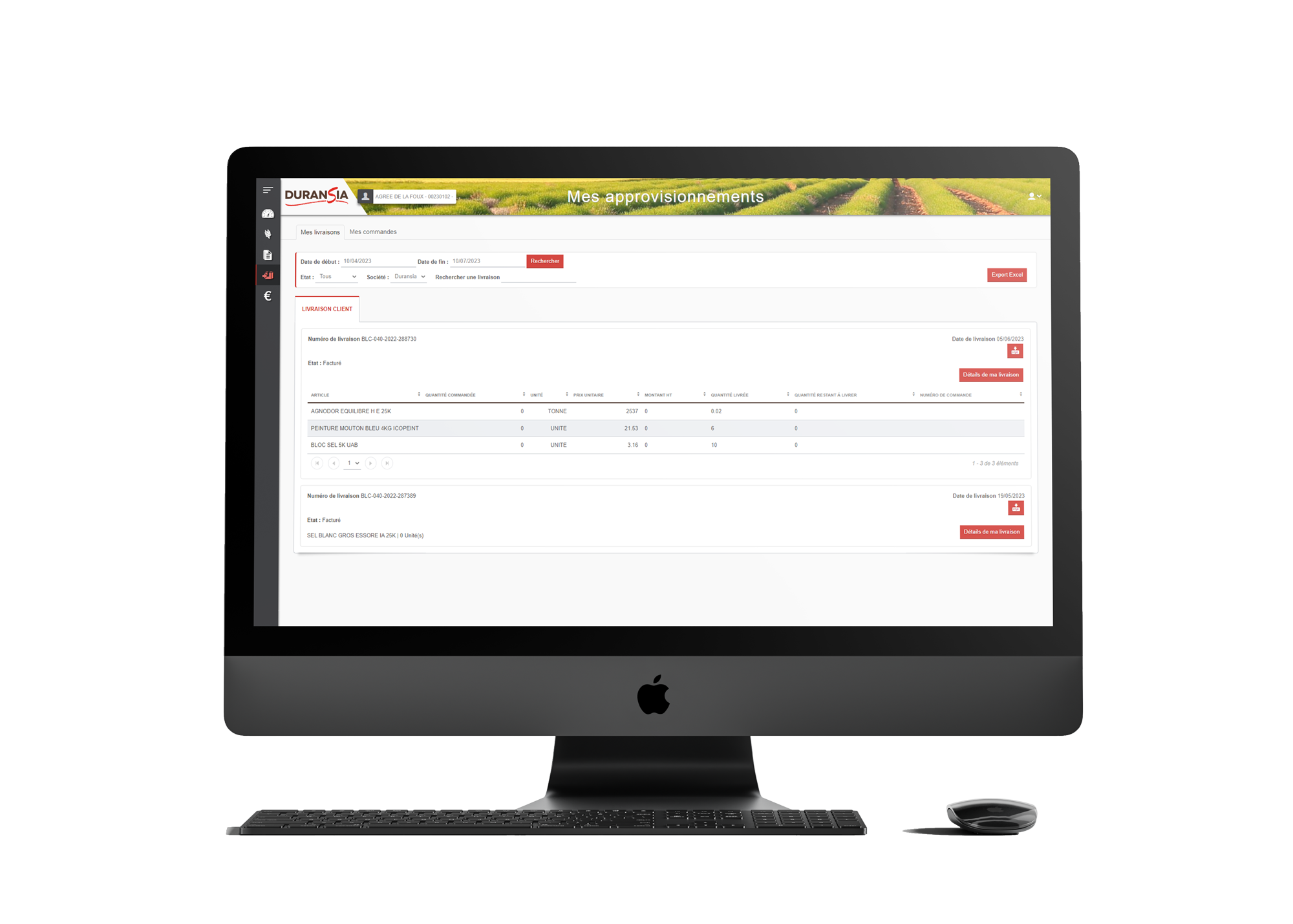 Creation of an agile and dynamic sales policy to differentiate from the competition:
• Offers indexed in real time to markets (Euronext/CBOT)
• Target price offers
• Commitment contracts
• Option offers (CALL/PUT) Automatic hedging on stock markets (Matif)
An order routing system enables you to be hedge automatically on the Euronext market as soon as a physical contract is confirmed with a farmer. The automatic hedging system can be configured by product and by offer. Farmer segmentation
• Integration of your farmer list (Interface or XLS file)
• Creation of groups
• Price impact by farmer and/or group
• Specific content by group Automated emails and notifications
You can customize the sending of notifications/SMS/emails for :
• New offers available
• Reaching target prices
• Contract validation
• Publication of market reports
• Or send personalized e-mails automatically to a group of farmers.
General features for the salespersons of the cooperatives • Accès web et mobile

• Viewing information on their farmer's portfolios
• Contractualization for the farmer (electronic signature with trusted third party available)

• Farmer follow-up

• Market information: Euronext 15-minute delayed, daily market summaries, news, and technical points.
Our other solutions


More information about Agrimarket ?
Contact sales department
+33 (0)1 53 99 19 19