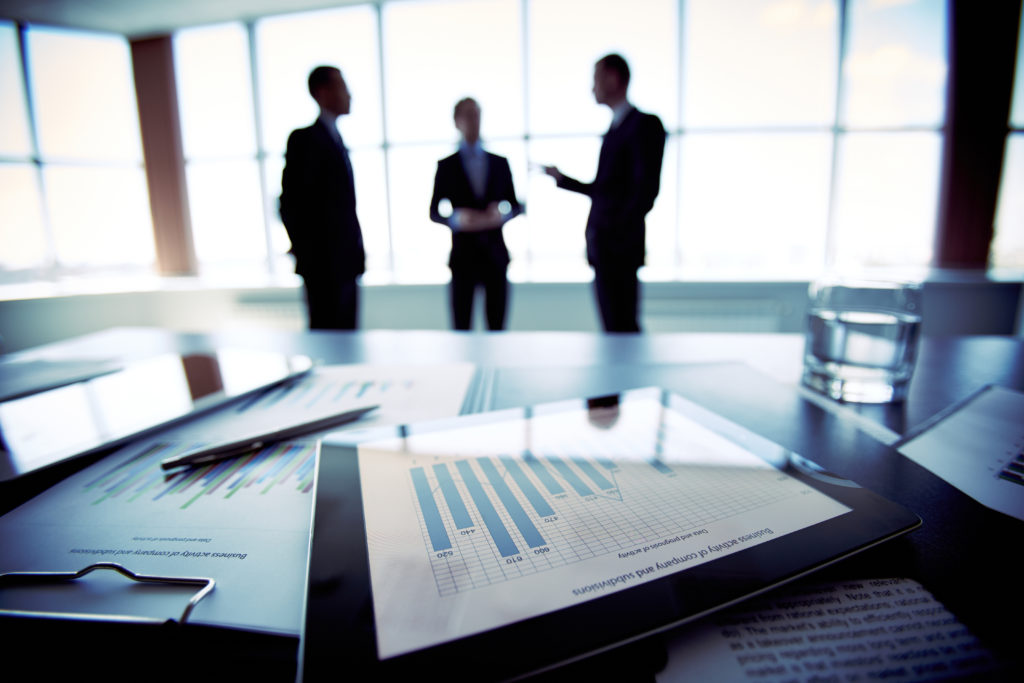 WSD Master
THE ESSENTIAL OF MARKETS THROUGH AN INTUITIVE INTERFACE
You are
Do you buy/sell raw materials and want to get the best price? A solution like WSD Master will keep you connected to the markets in real time.
But what are the advantages of following futures markets such as MATIF, CBOT or ICE? How can you follow the physical markets (FOB, rendering, CIF, etc.)? What types of news should you read? What are the solutions for staying informed quickly and efficiently?
Following the markets helps you make informed decisions and manage risk: Many players in the agricultural sector operate on futures markets with the aim of hedging their price risk, so it's essential for them to follow these markets. However, some operators (particularly in Southern Europe) do not take positions on derivatives markets, but still follow these markets (MATIF, CBOT, etc.). Indeed, the physical and futures markets are closely linked.
Let's take the example below, with a comparative chart for the year 2023 between the price of wheat on Euronext (expiry September 2023) and a physical quotation (CIF Holland, Agribrokers). The curves are closely correlated.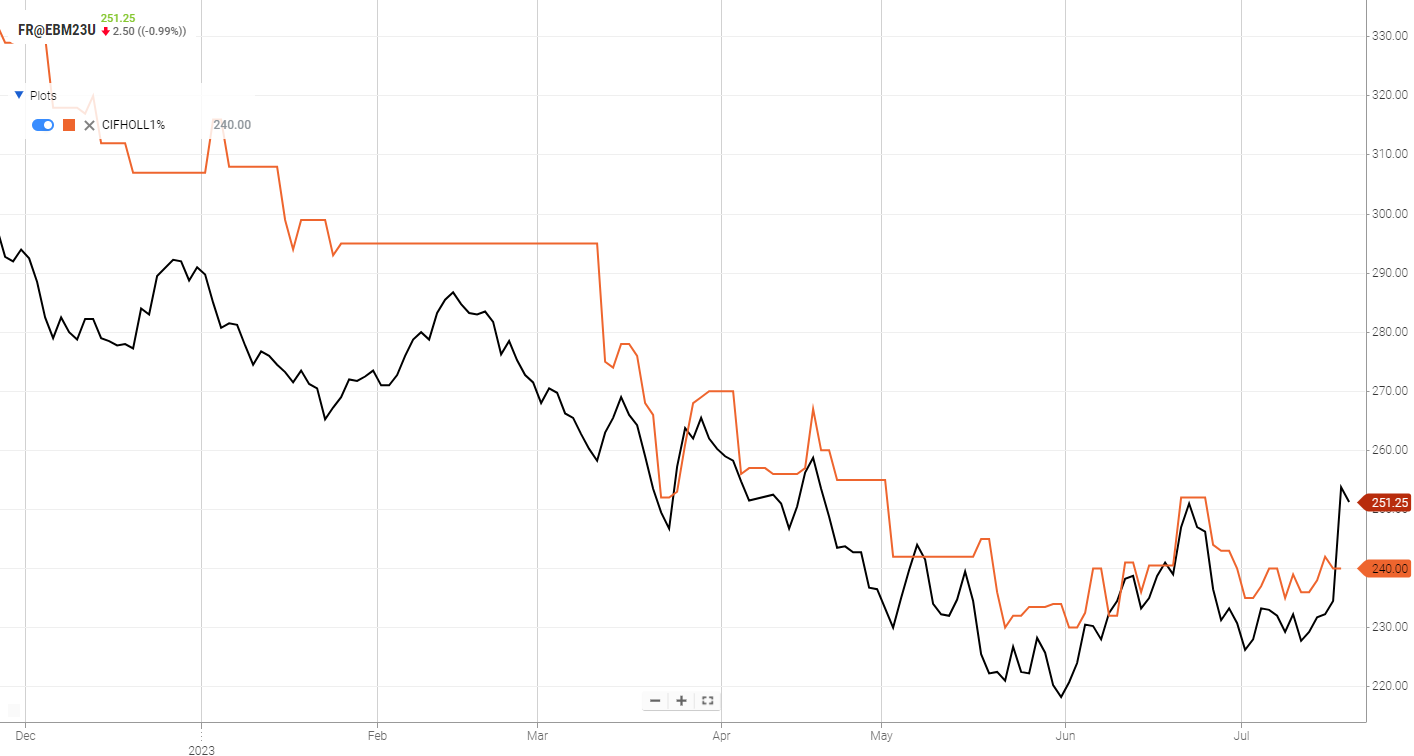 Today, most players in the agricultural sector follow the futures markets for agricultural commodities. These include MATIF (also known as EURONEXT), CBOT, ICE Europe and ICE US, CME, EEX, MGEX, MGEX, DCE and NYMEX.
Operators also follow the physical reference markets. Indeed, many brokers send their customers a daily price grid. Having a platform that brings together physical and futures quotes represents a considerable time-saver 
This data (futures and physical) gives you a constant overview of market fluctuations and trends, enabling you to make informed decisions. The market for agricultural products is subject to constant fluctuations, and in an increasingly globalized sector it is no longer possible to determine a price without external information. Keeping up to date with the markets enables you, as a storage agency, cooperative, broker, trader or manufacturer, to better manage the risks associated with price volatility, and thus secure your margins.
By being informed of market movements in real time, you can benefit from sudden market rises. So you can react quickly to secure your margin and maximize your profits.
Being informed in real time is essential, but it's also important to anticipate market trends: market news and analyses give industry operators a better understanding of long-term trends. Whether it's agricultural news such as tenders, geopolitical news such as cereal export agreements with Russia, or climatic news, market operators need to stay informed. For example, the outbreak of the Russo-Ukrainian conflict in March 2022 propelled grain prices (wheat, corn, barley, soybeans, etc.) to unprecedented levels. Today, the slightest move by Russia has a considerable impact, and it is essential for any operator in the agricultural sector to keep abreast of developments. Alongside daily news, many operators consult fundamental analyses (supply/demand) with market reports on crop progress, weather conditions, the USDA report and traders' positions. Technical analyses are also very popular, providing an insight into market variations through curve analysis.
It's important to consult futures and physical quotes to follow market in real time but you must not forget to read news and market reports to take a step back.
Whether you're a trader, broker, industrialist, miller or buyer, your time is precious, and monitoring the market is part of your business. Keeping track of the markets via different websites, social networks (sometimes unreliable) and e-mails is time-consuming. Having a tool that brings together physical quotations, future quotations and concise market summaries saves you a considerable amount of time.
Over 20 years ago Grainbow created WSD Master
With an all-around solution to follow the markets, multi-support to stay connected everywhere, giving you access to recurrent and qualitative market information.
WSD Master enables you to track the evolution of global commodity markets such as wheat, rapeseed, corn, barley, oil (WTI / Brent), gas (TTF, Platts), cocoa, coffee, sugar… etc.
Real-time quotes on futures markets
Quotations on liquid physical markets
Recurrent news, technical analysis, and market reports
In WSD Master, you'll find all the market information produced by our Hashtagri analysis department:
A team of market analysts, experts in their field, offer you a continuous flow of information directly accessible in WSD Master, so you can be alerted to market developments.
Information that's both comprehensive and succinct.
Daily news: on the agricultural market (evening and mid-session summaries, crop progress, ethanol), on major buying/selling movements (tenders, exports…) and on global macro indicators (currency, oil, central banks…). .
Weekly market reports: weather reports, traders' positions, crop progress, etc.
Technical analyses on MATIF, CBOT and global macro indicators (oil, gas, exchange rates).
Thematic analyses with an in-depth focus on current events.
Monthly USDA summaries.
« The information/analyses we offer allow us to build an efficient follow-up of the main cereal/oilseed markets. On the one hand, in intra-day, with news and technical analyses that provide a parallel decision-making aid. On the other hand, with a panel of recurrent analyses that complete the overall vision and deepen the major elements of current events or market concepts » Paul DESERT-CAZENAVE – Market analysis Manager
Main features Quotes listed futures markets
Consult the commodities markets (Euronext, CBOT, FOREX, ICE US, ICE EU, ICE LIFFE, DCE, EEX, MDEX, MGEX, DCE, EEX, NYMEX). These markets can be consulted in real time or with a 15 minute delay. Other listed market quotes (options & spreads)
Consult the options and spreads markets. Strike list, volatility chart, stockchart, options pricer…etc. Physical price database
Every day, we integrate into WSD Master physical prices communicated by more than 25 partner market operators worldwide (brokers and analysts). SMS/pop-up price alert system
Program SMS/pop-up alerts on futures market prices to be notified in real time of any price variations. Create personalized messages and send them to groups of contacts. Chart tool
Generate real-time charts and perform technical analyses. You can also generate comparison charts, seasonality charts, graphical studies and premium charts. Dynamic excel links
Retrieve market data in real time from your Excel files. In the absence of a position management tool, DDE links enable you to value your position portfolio in Excel.. Databases and histories
Consult up to 25 years of price history on futures and physical markets.
They trust us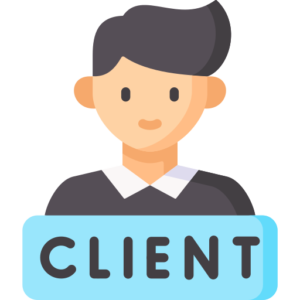 500 Clients
18 COUNTRIES 
Our other solutions


More info about WSD Master ?
Contact sales department
+33 (0)1 53 99 19 19