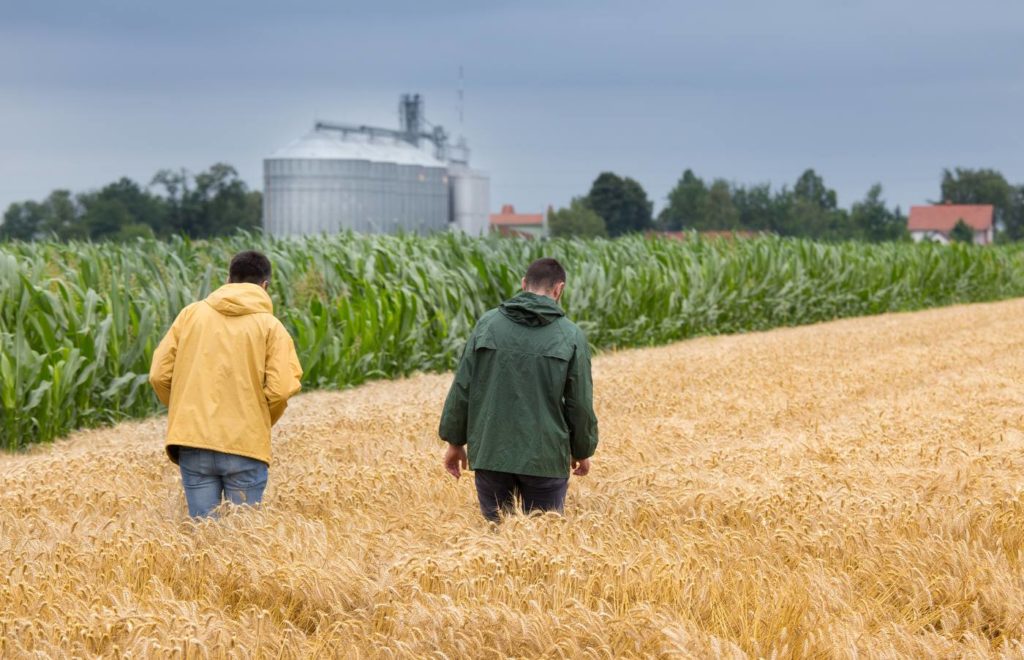 Agrimarket
digitaliZe WITH YOUR FARMERS
We answer to your business needs
Agrimarket,  a customizable, interactive and innovative extranet solution that can be easily integrated
into your existing IT environment.
The result of 10 years of experience in the development of customized extranet solutions for storage companies, AGRIMARKET is an innovative product composed of several modules that make it a complete extranet solution.
   
    
AGRIMARKET is divided into several modules to best meet your needs. 


E-collect
The e-collect module allows the
contractualization between an Operator and its farmers. The operator proposes to his farmers online offers to purchase their production. Prices can
then be automatically calculated from the «real time» values of the Euronext and CBOT markets.
An automatic order router allows the operator to cover himself automatically on the Euronext market as soon as a physical contract is confirmed with a farmer thanks to a connection with a futures broker. Market information
This module includes a set of information written by our analyst department for your farmers. Find various information on cereal and oilseed markets: news, reports, summaries, physical and future quotations.
The news available on the interface are totally adapted to the farmer. They are both :
– Dynamic thanks to a scrolling banner system,
– Synthetic with a short format,
– Educational thanks to the arrows indicating if the news has a positive, negative or neutral impact on the market.
The farmer finds all his market information on a unique page: news, market reports, technical points, physical and future quotations. MyAccount
This module allows the agricultural distributor to make available to his farmers all the information concerning their accounts, their supplies and their contributions. In just a few clicks, the operator provides its farmers with a space in which they can view their invoices, work in progress, orders
and deliveries.
Agrimarket is directly connected to your ERP to automatically process your contacts and invoices,
saving you a lot of time.
Choose Agrimarket
Benefit from a solution :
Multilingual

Multi-company
Multi-support
Multilingual
Available in English and French,
you can choose another language
Multi company
This avoids you to have several interfaces to manage
Multi Support
AGRIMARKET is a solution optimized for different media: PC, tablet, offering you flexibility in your daily work.
Agrimarket Mobile = Additional option with a cost
Features Security with automatic Euronext hedging
An order routing system allows you to automatically hedge on the Euronext market as soon as a physical contract is confirmed with a farmer.

My Account part
The module " My Account " of AGRIMARKET allows the cooperative or the trader to put at the disposal of its farmers all the information concerning the detail of their accounts: Outstanding amounts, supply invoices, contribution statements, cereal invoices. The invoices can be downloaded in PDF format for more simplicity.
Reactivity in putting offers online
You provide your farmers with online purchase offers with prices that can be automatically calculated from "real time" Euronext market values. Manage engagement contracts
Create personalized messages and send them to groups of contacts. Content management
You have the possibility to make available to your farmers other specific contents written by you. You can then create menus, add pages and propose a working tree structure as you wish. Online contracting
With or without prior commitment, each farmer has access to your offers, and can directly contract online. The farmer can give a target sales price which will be confirmed in contract as soon as the market reaches the requested price level. Listing of physical operations
You and each farmer have access to the listing of the physical operations carried out on AGRIMARKET, as well as the objective prices not yet realized. List of inputs
The farmer finds the list of his inputs with the characteristics and the standard weight. He can, for example, view his inputs from your ERP. Two filters are available: production types (commitments, deposits)

RSS feeds
You have a dashboard composed of RSS feeds of dynamic information that will then be displayed on the homepage of the farmer interface.
News
Every day, the farmer finds the main information related to the cereal/oilseed markets (harvest forecasts, weather…etc), the euro and oil.
OS can edit his own news that he writes directly on the Agrimarket surface. Technical point
Daily, the farmer has 3 tables (cereals, oilseeds, global macro) presenting two levels of support and resistance to follow for the day on the prices of the main cereal/oilseed futures, Brent oil, the euro and the European financial markets the day before (Tuesday to Friday), or during the past week (Monday). Market summaries
Every day, you will find 3 comments (grains, oilseeds, global macro) presenting 2 support and resistance levels to follow for the day on the main grain futures.
Global oilseeds, Brent oil and the euro. Future quotations
This module of access to the cereal price markets allows the farmer to visualize MATIF quotations in deferred 15 minutes. The OS sets the visible quotations for its users. Once a market is added, a listing of all available open deadlines appears. The operator selects the deadlines he wants to display to his farmers. Physical quotations
The user has access to daily updated quotations on the main physical cereal/oilseed markets.
Our other solutions


Need more information about Agrimarket ?
Contact our sales department
+33 (0)1 53 99 19 19